BIOGRAPHY
Would you go on a date with me?
Almost any male asked that question by Shu Qi would start drooling and sweating while trying to get their vocal cords working long enough to say "YES!!" - and then they would wake up.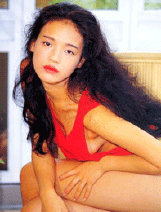 How early does a beautiful young teenager find out, that she has that effect on men? Probably pretty early - most girls start putting on makeup, dressing up and practising moves and expressions in front of their mirror so early, that by the time they are teenagers they know exactly, how to present themselves as alluring femme fatales, hot movie stars or innocent little girls - all according to their mood at the moment.
I doubt Shu Qi had to practice very much.
She was born Li Lin Hui into a relatively poor Taiwanese family. As a child she never had much money and were very seldom allowed to buy things for herself. An upbringing with being hit and scolded as main ingredients made her grow up early and at the same time develop a very independent character. As a teenager she ran away for shorter periods more than 10 times and at the age of 16, she took off for six months.
Shu Qi knows if she doesn't strip, she can't be a star

At 17 she started modelling, with a face and body to die for, she soon was doing nude picture series. Seing her face on a magazine cover, Hong Kong producer Manfred Wong tracked her down and became her agent. He signed her for Sex & Zen II, a category III (adults only, soft porn) movie.
After that she starred in Viva Erotica, which won her recognition and several prizes. In 1997 her manager Manfred Wong told TIME: "If you're an unknown and from Taiwan, there is no such thing as doing art and high-class films. Shu Qi knows if she doesn't strip, she can't be a star."
A telling remark about the state of Hong Kong Cinema.
Making movies and more movies, but no Crouching Tiger
After her awards for "Viva Erotica", Shu Qi started getting roles in typical Hong Kong movies. She showed off that gorgeous body, she smiled her dazzling widescreen smile and she fluttered around as a no-brain butterfly (how Hong Kong movies see a lot of their female stars). But when she was allowed to act ("For Bad Boys Only", "City of Glass" and "Portland Street Blues"), she showed enormous potential.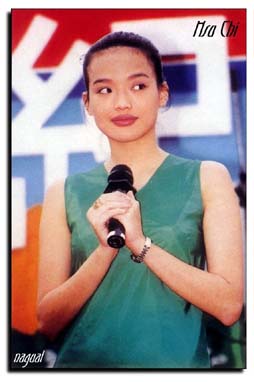 For a movie star to cross over from (soft) porn to mainstream is extremely difficult - and nearly unheard of in Hong Kong. For any actress anywhere to get good female roles with meat on them is very hard as well. When you see a good role - grab it fast. Shu Qi got the chance in "Crouching Tiger, Hidden Dragon". Ang Lee's first choice for the role of Jen (Zhang Ziyi got it) was Shu Qi. She was on board for eight weeks, before she was pulled by her manager Manfred Wong - to do a commercial for Coca-Cola in Japan!
If Wong succeeds in keeping her locked in the local industry's churn-out-the-crap-fast way of doing business, we may never see Shu Qi live up to her full potential.
And the winner is
But there is hope yet. Leading roles in movies like Millenium Mambo, Beijing Rocks, The Transporter and several upcoming projects shows a tendency towards better roles to showcase Shu Qi's talent as a powerful actress - and not just a knock-out body with a trademark dizzying smile. As much as we like to see 5-6 new films with Shu Qi every year, we would much prefer to see her in one or two really good films. For that to happen, she would probably have to look outside Hong Kong.
Hong Kong movie industry still has tremendous energy, but scripts are inferior, production too fast and good roles for women virtually non-existent.These days Korea have taken over in Asia, as the country where the best movies are being made. And the journalists in Hong Kong are enough to drive anybody away. Can you hear the claws being sharpened in this line from The Straits Times' Clara Chow:
"RUMOUR has it that Taiwanese starlet Shu Qi, Chinese actress Vicki Zhao Wei and Hongkong singer-actress Karen Mok did not get along on the set of their latest movie, So Close." (August 27, 2002)
Not belittling Vicki Zhao or Karen Mok, but Shu Qi is by far the better actress. Starlet??
Luckily, several directors outside of Hong Kong and Asia are starting to be aware of, what Shu Qi can do. If she is lucky and chooses wisely, we may see her on the podium at a future Oscar-night. She has the potential. Did she dream of that as a little girl? Did she practice her acceptance speech in front of the mirror? Wishes do come true from time to time - "A date, did you say? Oh, Yes!"
Uffe Stegmann, August 2002
NOTE: As it's hard to get independent information about Shu Qi, all information in this article has been found on the net. The best biography I found was written by Stephen Short of TIME Asia (and I have borrowed heavily from that).